Annual Awards Evening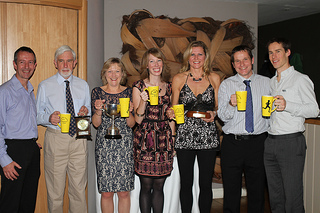 Kick off those trainers and peel off the Lycra, it's nearly time to don dancing shoes and party gear for our Annual Awards Night. This year, we'll be teeing-off at …Ampfield Golf and Country Club Winchester Road, Ampfield, Romsey SO51 9BQ, Friday 15 November at 7pm (for 7.30pm).
Ticket price will be £25 per person (partners welcome), which will include a three-course meal in the club's restaurant. See the booking form for menu choices.
After dinner, the club's annual awards will be presented by the chairman and, following food and formalities, you can dance the night away to the club's resident DJ.
Please let Social Secs Karen or Di or Alice know if you are interested in coming along. Numbers are limited, so don't leave it too long. If transport to Ampfield is a problem, please let us know. We are looking at the possibility of arranging minibuses – or lift shares. Not promising anything, but please tell us if this would make it easier for you to attend.
Home Run
During the summer months members are invited to host a social run from their homes on a Monday or Thursday evening in place of the normal club session, with the opportunity to socialise over a bit of food afterwards. If you'd be interested in hosting a home run this summer then please talk to Di or Karen to find out more.
Pasta Party
Join us for an evening of carb-loading and brain-teasing with our annual pasta party and quiz night in support of this year's marathon runners. We will be hosting the feast on Tuesday 16 April 2013 at The Sun Inn, 7pm for 7.30pm. Its £10 per head for the main course, dessert (if you still have room!) and drinks on top, everyone welcome. Look out for the booking slip in the March edition of Relay and return with your cash or cheque (made payable to Rosmey Road Runners) to Karen or Di by 12 April. See you there!
Weekend Away

The RRR weekend away will be taking place on the May Bank Holiday weekend (25 – 27 May 2013) to coincide with the last event in the Endurance Life Coastal Trail Series 2012/13 – it is also their festival weekend.
There's a choice of 10k, half marathon, marathon and ultra distances (category 3, strenuous), which take place on the Sunday.You will need to enter your choice of race yourself via the Endurance Life website, where you will also find further details about the race series, what you are expected to carry during the race and the course routes. Use the code RRR946 when entering for a 20% discount – this is valid until the end of January (and applies to all Endurancelife events in the series).
We have reserved a number of double and single rooms at the Quality Hotel, Plymouth, which overlooks Plymouth Hoe. If you are interested in coming – and have not signed up already – please let Karen or Di know.
Cycling
A number of our members also enjoy cycling, and occasionally organise group rides (generally in the summer!).  Usually a ride will be proposed/arranged via the GoogleGroups email messaging system.
One of our members
has recently set up romseyroadriders.uk as a website for finding local rides and riding buddies, so make sure you have a look over there as well if interested.