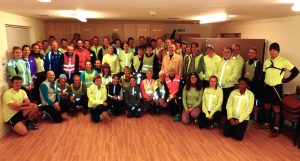 We meet two evenings a week at 6:20pm for a prompt start at 6.30pm, allowing time to share messages and to introduce new members. Find details of the current training schedule here.
Summer sessions
Monday evening: Braishfield Village Hall
Next to the recreation ground.
Thursday evening: Mountbatten School Running Track
During the summer months our Thursday sessions are held at Mountbatten School Running Track – members are encouraged to meet at the school in good time so that we can start the warm up straight away.
Winter sessions
Monday evening: Woodley Village Hall
Turn into School Road from the A3090 at the Hunters Inn pub. The village hall is approximately 200 meters on the right.
Thursday evening: Romsey Sports Centre
Next to Romsey Rapids (turn left instead of right after turning onto the access road).  As you enter the small car park, we gather in the building on the right, next to the field.
What should I wear?  Arrive dressed to run. You are requested to wear a hi-vis or reflective vest during the winter months for your own safety – take a look at our Kit page for items you can purchase through the club.
Where will we go?  The training schedule includes information and links to maps.  You won't normally need these on the night but these might be handy reference beforehand.
What can I expect? Our structured training schedule includes a mixture of activities designed to help improve your speed, stamina and strength for whatever goal you have in mind, including:
Interval training:
Usually five or six efforts totaling approximately 4 to 6 miles with a period of recovery in between each effort, designed to boost endurance, improve leg turnover and strength, and get you used to working at a higher heart rate and effort level.
Hill efforts:
Similar to interval training, we do a 30 minute session of hill repeats designed to  make you work harder, become stronger and enhance your cardiovascular fitness. It's important to continue the effort off the top of the hill rather than allow yourself to slow when the peak is in sight as this will encourage endurance in a hilly race.
Tempo run:
This is swift run of 5 miles at a pace that you shouldn't feel comfortable chatting! It's designed to help increase your lactate threshold so that you can produce energy aerobically at a higher intensity and therefore increase your speed in a race. It will also your leg turnover speed and running economy.
Paced effort:
This is an effort over 1 or 2 miles intended to be run at an increasing pace, designed to get you used to running at different speeds and to build stamina for increasing your pace towards the end of a race. Ideally think of the effort in three parts, starting the first part at marathon pace, followed by the second part at half marathon pace and finishing the final part at 10k pace. The session will include at least two paced efforts.
Informal sessions There are often informal runs organised on Saturday or Sunday mornings throughout the year of varying distances, terrain and locations, and during the spring and summer months members who also enjoy cycling often get together for evening rides. All members are welcome to attend these sessions. Look out for messages on the Google Group email and posts on the homepage for details.