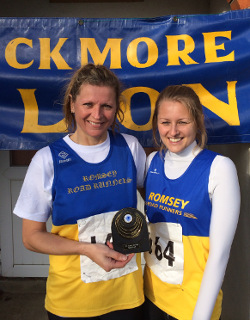 Sunday 2nd February saw Tam Ryan and Rio Brookes-Gibbs competing together in the Blackmore Vale Half Marathon, in nearby Dorset. This has a reputation as a tough course as it has relentless hills and is known for being exposed; both make it tough. The last mile is up a steep 'killer' hill up towards the end, literally finishing runners off. Brookes-Gibbs realised a personal best was no where near possible but finished strongly in 1:55:30. Ryan did get a PB and was very pleased with her performance on this tough course. Finishing in a time of 1:34:07, as 7th overall and 2nd in age category.
On Sunday 9th February the Chichester 10k saw the Romsey men in action. The duo of Paul Burnage and Christopher Stocks completed this popular road race. Many participants go all out in hope for a personal best, as the route is flat with some nice downhills in places; one nearing the finish.
Over 1,600 runners finished event, "the rain managed to stay away, there were no floods, leaving only a strong wind to battle through," said Burnage afterwards. Paul finished in 43:38, positioned 336rd with Christopher Stocks finishing in 409th position in a time of 44:51.