After an enormous amount of hard work by the organisers, the Clarendon Way events took place on the 4th October and members of Romsey Road Runners turned out in force despite very wet conditions, with some fantastic results, including many podium places both overall and in age categories.
In the full marathon, nine runners from the club completed the undulating off-road course with Becky Tovey winning the ladies race in an amazing time of 3 hrs 32 mins 23 secs. Becky was also 15th overall. Matt Hammerton also ran a great race in a stunningly quick time of 30:01:26 to win the men's race with Mark Stileman in 3rd place and 1st in his age category in 3:12:56. Other results in the full marathon were: Neil Jennings 8th overall 3:21:36, Sue Sleath 1st in age category 3:50:50, Alice Lane 2nd in age category 4:52:04, Ian Ralph 4:58:25, Abi Cook 4:58:38, Sue Stileman 4:58:57, Susie Parker 5:01:14.
In the half marathon, Tom Bray took 1st place overall in 1 hr 20 mins 20 secs. Elizabeth Prinsep came 1st in age category in 1:51:27, Mark Adams finished in 1:56:44, Keith Morris 2:07:44, Penny Jennings 2:14:37, Sue Sylvester 2:22:41, Bob Gold 2:36:18, Jo McKenzie 2:46:57 and Brenda Topliss who was also 1st in age category in 2:54:33.
In the relay event which covers the full marathon distance, a Romsey Road Runners mixed team consisting of Lorna Crouch, Alex Prinsep, Mark Winkworth and Nigel Hemsted finished 5th in a field of 22 in a combined time of 3 hours 21 mins 22 secs.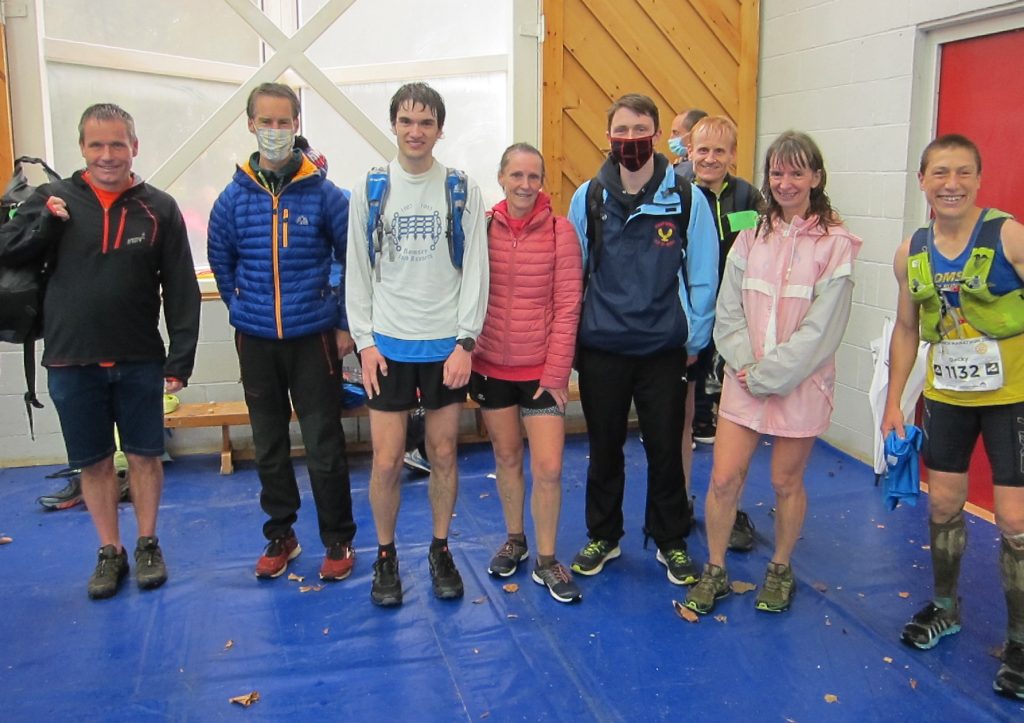 Meanwhile, Tam Ryan is three quarters of the way through reaching her goal to complete all four of the Centurion Running 100 mile races in a year in order to earn the prestigious Grand Slam Buckle. Although she considers herself to be 'mid race', her journey and achievements so far have been incredible.
Tam planned to attempt this goal two years ago but had to cancel until now due to injuries sustained during her first 100 mile race in 2018. Hard work to strengthen injuries, lots of training and the first two races getting postponed pushed back by three months, have made her more determined to complete the mission.
The first race which took place on the 8th August was the longest, 103 miles on the North Downs Way from Farnham to Ashford in Kent. There was a heatwave at the time and although over half the field dropped out, Tam completed it in 29 hrs 44 mins, one of the 45% to finish!
With only four weeks to recover, which wasn't enough time for her blisters to heal, Tam was back out, this time on the Thames Towpath for the 2nd 100 miler, a beautiful route from Richmond to Oxford and thankfully, the weather a was cooler. This time, she managed to break the 24 hour mark, earning the special "one day" buckle in a time of 23 hrs 46 mins.
The gap between the second and third races was five weeks, after which Tam was challenging herself again, this time in the Autumn100 race in Goring on Thames, four out & back legs along the Thames, Chilterns hills & Ridgeway. Despite no crew allowed and only one pacer in the last 25 miles, she was also suffering from a twisted pelvis and some shifted ribs. Conditions were also against the field with some torrential downpours, very wet, muddy and slippery sections but despite falling over three times during the race, Tam earned herself another "one day" buckle by finishing in exactly the same time as the last race in 23 hrs 46 mins.
Tam, who also suffers with nausea and stomach issues for around 70% of each race, says that she couldn't have got this far without her fantastic crew and pacers Becky Tovey, Elizabeth Prinsep and Julie Shanker. She now has four weeks recovery time before the last race of the Gland Slam in the series, the South Downs Way 100 from Winchester to Eastbourne. Romsey Road Runners and everyone who knows Tam have everything crossed she reaches her goal.