What a weekend this was for runners! Our road runners were out in force, representing Romsey in the London Marathon, Southampton Half Marathon, Full Marathon, 10K and the Houghton 11k trail race. The blue and yellow vests provided some stunning performances both home and away.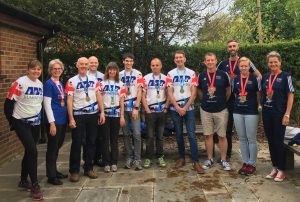 In sunny London, the 26.2 miles of tarmac, starting at Greenwich and ending in front of Buckingham place, were pounded by five Romsey representatives amongst 40,000 other runners, the most finishers ever to date. First time London marathon runner Joanna McKenzie represented Romsey by taking up the esteemed club place. Jo completed the race in a time of 4:20, a personal best despite cramping for the last six miles! Tamatha Ryan experienced the privilege of taking up her well-earned championship place finishing in 3 hours 41 minutes. Other fantastic times included Marie Duignan 3:23, James Cole 3:41 and Ian Winkworth 3:57 all who enjoyed the atmosphere despite the pain!
Closer to home, ten thousand runners took part in the three Southampton races. Neil Jennings completed his debut marathon blasting it out in sub 3 hours, finishing an awesome 12th overall with a chip time of 2 hours 59 minutes. Fantastic marathon performances were also recorded by Paul Burnage 3:44 and Dave Gardner 3:49 (a personal best). The Southampton half marathon was entered by eleven Romsey runners recording a good set of strong results: Mark Stileman 1:24, James Battle 1:26, Dan Lurcock 1:37 (PB), Paul Whitaker 1:49, John Quayle 1:49, Penny Jennings 1:50, Mark Winkworth 1:55, Jeremy Hartley 1:55, Ben Sharman 1:55, Liz Prinsep 2:03, Jane Jackson 2:22. Last but no means least, six runners took part in the Southampton 10K which was entered by more than 1,600 runners. First home for Romsey was Alex Princep 41:42, followed by Ray Webb 50:46, Colin Williams 57:29, Lynda Webb 1:02, Ruth Page 1:10 and Naomi Farrington 1:16.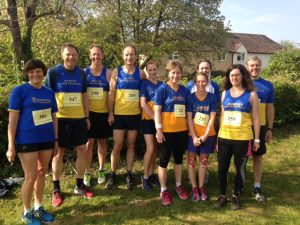 Meanwhile off-road at Houghton, just outside Stockbridge, ten Romsey road runners completed the 11k trail race. This cross-country course is set in beautiful scenery through bluebell fields and incorporating a few hills. The runners soaked up the sunshine enjoying both the course and the cakes at the end! Times included Steve Reed 52:44, Steve Edwards 54:20, Becca Lurcock 54:31, Andrew Archibald 56:00, Lynda Brown 57:07, Dorota Hatch 1:07, Nikki Skeats 1:08, Bridget Wells 1:11, Derek Kelly 1:15 and Julia Abab 1:15.
Finally, the previous weekend saw Mark Stileman complete the Isle of Wight's West Wight three hills race finishing 8th overall in a time of 54:26 and Sue Sleath ran a fabulous time of 3.36.20 in the Boston marathon.