The first RR10 of the 2014 season started at Royal Victoria Country in Netley last Wednesday. There was a high turn out from Romsey Runners, who were presented with new route around the park, which provided plenty of mud. Romsey finishers were:
Men: 5th Matt Hammerton, 20th Toby Burrows, 21st Jimmy Hunt, 26th Mark Stileman, 29th Andrew Proctor, 40th Ian Ralph, 41st Duncan Dickenson, 48th Christopher Brown, 74th Tony King, 84th Nick Berryman, 103rd Duncan Walling, 165th John Quayle, 187th Stuart Cripps, 189th Andrew Archibald, 254th Derek Kelly, and in 259th Greg Roulston.
Women: 27th Hannah Hunt, 34rd Jo Weguelin, 42nd Penny Jennings, 53rd Alison Soloman, 57th Di Cross, 58th Julia Abab, 72nd Alice Lane, 74th Liz Slade, 112 Naomi Farrington, 136th Linda Webb, 145th Deborah Rees, and 154th Julie Shanker.
The Romsey Men fielded three teams finishing 4th, 12th and 27th. All the A team finished in Top 30 while the B Team all finished in the Top 90. The Romsey Women managed to field four teams finishing 12th, 18th, 30th & 49th respectively.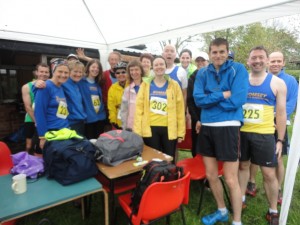 A very wet Sunday saw the annual Houghton Trail Event; a selection of runs and cycle events starting from the village hall with all proceeds raised going towards the Houghton All Saints Church. There was a choice of 4k fun run, a 11k trail run, a 5k off road cycle and 14 or 32k mountain bike ride. The route was essentially off road using parts of the Test and Clarendon Way, trails and paths and some quiet rural roads.
RRR, Di Cross said afterwards, "The Houghton 11k trail run was great fun as ever, despite the deluge."
A friendly event, introduced by Dickie Davies, it was well run with plenty of marshalls and delicious cake at the end. The course was muddy and slippery – probably worse for the cyclists than runners – with some good hills along the way.
Di finished in 1:01:38 – a minute off her PB for the course and but still finished first in her age category. Other finishers: Tony Burrows 44:45 (3rd man), Jimmy Hunt 45:07(5th man), Hannah Hunt 56:43 (3rd lady), Stuart Cripps 58:34, Tony Peelo 1:00:03, Di Cross 1:01:38, Penny Jennings 1:02:11, Alice Lane 1:03:14, Sarah White 1:05:37, Liz Slade 1:07:45, Anna Duignan 1:13:29, Naomi Farrington 1:14:59 and David Nixon 1:16:13.
The 32k cycle event saw RRR Wendy Couper, first in her age category finishing in 2:55:33.