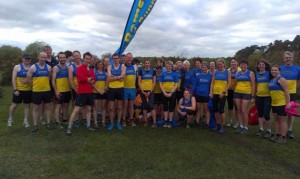 The second evening RR10 took place on Wednesday 7th May at Stoney Cross, in the New Forest. Romsey Runners were well represented. The route started as a pleasant downhill with runners setting off at a fast pace before encountering mud and water at the bottom and a returning incline back towards the start!
The Romsey Men consisted of three teams finishing 4th, 8th and 26th. The B team were actually the "second of the B teams" and were ahead of the A teams of some other clubs which is a tremendous performance.
The Romsey Women went one better than last time out to field five teams finishing 7th, 14th, 18th, 32nd & 44th respectively.
Male finishers: 2nd Matt Hammerton, 24th Mark Stileman,  26th Chris Brown, 27th Tony Burrows, 31st Andrew Proctor, 33rd Ian Ralph, 39th Jimmy Hunt, 44th Neil Jennings, 47th Duncan Dickinson, 62nd Tony King, 90th Steve Reed, 127th Peter Hartley, 130th John Quayle, 141st Andrew Archibald, 188th Richard Vie, 198th David Nixon and 200th Derek Kelly.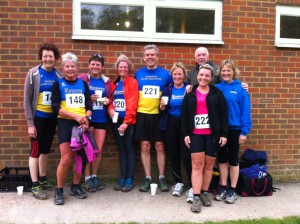 Women finishers: 13th Tam Ryan, 24th Becky Tovey, 28th Hannah Hunt,  31st Rebecca Mariner, 37th Jo Weguelin, 46th Penny Jennings, 52nd Alice Lane, 55th Julia Abab, 58th Di Cross, 80th Liz Slade, 104th Naomi Farrington, 106th Anna Duignan, 125th  Linda Webb, 128th Deborah Rees, 134th Julie Shanker and 147th Wendy Couper.
The weekend saw 9 RRRs running in the Harewood Forest 10K, starting and finishing at Wherwell, in the heart of the Test Valley.  Cool, windy conditions with only a small amount of mud, made for a very pleasant race off-road event with lots of beautiful scenery including some patches of Bluebells still at their peak!
Position
Time
74
00:58:48
Julia
Abab
79
01:00:31
Tony
Peelo
83
01:01:55
Liz
Slade
98
01:05:07
Anna
Duignan
106
01:07:07
Derek
Kelly
118
01:09:53
Julie
Shanker
119
01:09:56
Karen
Keane
120
01:10:03
Ruth
Page
129
01:17:59
Wendy
Couper