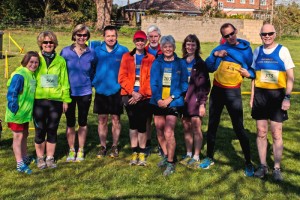 There was a big turn out for the Houghton trail events this year, with the added attraction of no mud, dry conditions and sunny to boot! This low key local event caters for walkers, runners and cyclists and offers a gentle undulating series of routes around the village of Houghton. There is something for everyone, with varying distances for all participants. The proceeds raised from the event are donated to the Houghton All Saints Church. This year a record 357 people participated. The tea and supply of cakes was very welcomed at the finish by all those taking part.
RRR finishers:
Mark Adams 51:50
Tony Peelo 56:23
Penny Jennings 59:37
Marion Kelly 1:09:11
Greg Roulston 1:17:56
Ruth Page 1:20:06
Wendy Couper 1:23:25
Steve Edwards cycled the 32k in 1:37:01, finishing 16th.
Alice Lane and Beth Downhall did the shorter 5k distance. Beth finishing in 13th place in 44 mins.
And finally, the best of luck to RRRs Tam Ryan and Neil Payne who are competing in the Virgin London Marathon, this coming Sunday.