Marie Duignan completed the Boston Marathon. Marie who had been living in Boston until recently finished the course in a time of 3:28:18, gaining her an automatic place for next year. 'Considering all interruptions to my training with the moving from America back to the UK, and then Romsey to London, I was really pleased with this time. Not my best, but certainly not my worst!'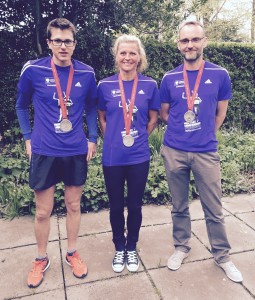 Taking part in the 35th London Marathon last Sunday were 3 Romsey Runners: Toby Burrows, Neil Payne and Tam Ryan. The near perfect conditions favoured all runners, and Romsey preformed well. First home for the club was Tam Ryan in 3:12:52, she was followed by Toby Burrows in 3:27:41 and Neil Payne finished in 4:30:24.
Much closer to home there was an impressive turn out by RRRs at the first ever Southampton 10k/Half Marathon.  This debut event was billed as having something for all. Runners started in Hoglands Park in the city centre, the route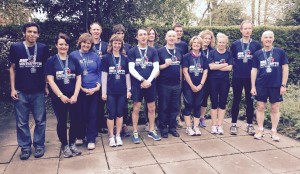 remained flat with the notable exception of its crossing of the Itchen Bridge, where participants were provided with views of the entire city and glimpses of the Isle of Wight.
Mark Stileman was 4th home and 1st in age category in the 10k in a time of 38:51.6.
RRR Results from the Southampton Half Marathon:
Ian RALPH 1:25:19.5
Neil JENNINGS 1:25:35.9
James BATTLE 1:25:43.7
Steve GEARY 1:31:43.6
Jonathan WILLIAMS 1:33:41.3
Stephen REED 1:33:46.6
Paul BURNAGE 1:34:48.5
Lee HARRIS 1:35:22.6
Christopher BROWN 1:36:01.6
Hannah SHUTT 1:37:40.9
Joanna WEGUELIN 1:42:30.8
Andrew ARCHIBALD 1:43:00.0
Penny JENNINGS 1:46:15.0
Alice LANE 1:56:21.5
Jacqueline BAILEY 2:09:26.1
Julie SHANKER 2:18:19.5
Linda WEBB 2:18:02.3