Runners from local club Romsey Road Runners have continued to compete over the new year period with some amazing personal achievements by many members.
Alice Lane has fulfilled a long-term goal of running a marathon in under 4 hours when she completed the Gloucester marathon on the 20th January. Alice put in an incredible performance to gain a massive Personal Best in a time of 3hrs 54 Mins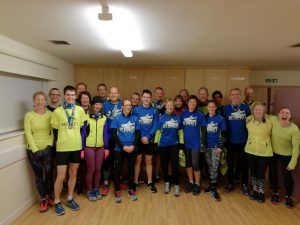 Sunday 27th January saw the Romsey 5-mile race at Broadlands and unsurprisingly Romsey Road Runners were well represented with 41 runners on the day. It was a fine morning if somewhat cold and there were some more great performances from the club. Highlights included 5 runners coming in with times under 30 mins, Neil Jennings was 5th overall in a time of 28.18, Matt Brown was 9th overall in 28.56, Alex Prinsep was 11th in 29.18, Tim Parker 14th in 29.38, and Mark Stileman 15th in 29.48. Amanda Hull finished in 31.52 to finish as 2nd lady and not far behind in 3rd place was Hannah Shutt in 32.14. A massive well done to everybody else who took part and represented Romsey so well on the day.
On Sunday 10th February there was an exodus to the West Country as several events were taking place. Ian Ralph put in a phenomenal performance at the Portland Coastal Marathon covering 2595 ft of climbing on a blustery morning by the sea finishing in 4th place overall in a time of 3.49.11. Also, in Dorset Keith Morris and Sue Stileman took part in the Lytchett 10 Miles and both came back with PB's of 1.20 and 1.26 respectively. Liz Prinsep travelled even further afield to Dartmoor to run the Wild Night Dark 10, which as the name suggests was a 10-mile run across Dartmoor in the dark. Liz finished 2nd in her age group with a fabulous time of 1hr 59mins.