Last weekend saw the talented and experienced runner Sue Sleath take on the Marlborough Downs Challenge. This race is a beautiful yet challenging event, which is mostly off-road along tracks and footpaths with plenty of climbs – over 3000 feet. Sue completed the 20 mile run coming in 4th overall and 2nd in her age category in an amazing time of 2 hours 43 minutes. Sue said "the conditions were lovely, warm, but not too hot and very dry underfoot making it hard work running into the wind on the climbs".
Also this weekend, Romsey's Ken West entered the Alton 10 mile, this race encompasses a circuit of undulating countryside and picturesque Hampshire village lanes. Ken finished in a fab time of 1:33:51.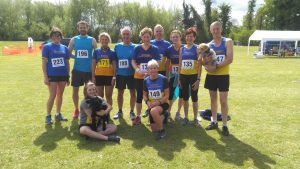 The previous weekend was the turn of the annual Harewood forest 10k and 5k runs. These runs are set in the heart of Hampshire's second largest ancient woodland and a lively group of Romsey road runners completed the races in some great times and positions. In the 10K, James Battle 40:40 (second place), Mark Stileman 41:10 (fourth place), Julia Abab 1:00:13, Bridget Wells 1:04:26, Anna Duignan 1:05:40, Bob Gold 1:05:57, Derek Kelly 1:07:02, Nikki Skeats 1:08:01, Wendy Couper 1:25:32, and in the 5K, Alice Lane 40:51.
Finally Mark Stileman also recently took on the undulating but very scenic West Wight 3 Hills multi terrain challenge. This run consists of a single lap of 8 miles and takes in Golden Hill Fort, Freshwater, Headon Warren, Alum Bay, Highdown, Tennyson Down and finishes at Freshwater. Mark crossed the line in 54 minutes 26 seconds coming in a very respectable 8th place.