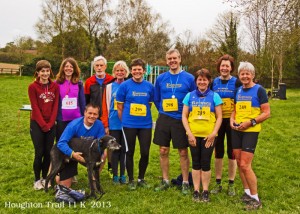 Sunday 28 April marked the 5th Houghton Trail Event, a local low key event raising money for charity. It is rapidly gaining in popularity, with many from the local community taking part.
Houghton village hall was the start and finish and saw 174 runners and 35 cyclists finishing, with a number of walkers and dogs joining in for good measure.
15 RRR members ran in the 11k trail event. The route is mainly all off road and very scenic offering good long views and incorporated parts of the Test and Clarendon Way. Conditions were good underfoot, slippery in places, but otherwise ok. Andrew Archibold was first man home in 55:28 and first lady was Becky Tovey in 55:47.
They were followed by: Tony Peelo 56:20, Paul Cutbill 57:18, Penny Jennings 58:24, Heidi Godfrey 58:37, Greg Roulston 1:01:49, Julia Abab 1:01:58, Derek Kelly 1:06:15, Mark Adams, 1:06:23, Charlotte Maslen 1:06:37, Anna Duignan 1:08:43, Ruth Page 1:09:12, David Page 1:13:17 and Wendy Couper 1:24:01.
There were 2 further club members who cycled the 14k cycle route. Adelice Ashworth and her Mum, Di Cross, who both finished as 1st females in the junior and senior categories, in times of 56:36 and 57:08 respectively.