T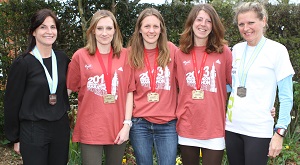 his weeks news is all about the London Marathon which took place took place last Sunday. There were 5 Romsey Runners who headed to capital for the famous race, the highlight of many runners calendar.
The weather was perfect, staying dry and pleasantly warm. Somewhat of a surprise to those who has been preparing in unusually cold and wet conditions.
All the training and preparation paid off for all Romsey Runners on the day. First to finish was Jimmy Hunt. Jimmy impressively dipped under the three hour mark, finishing in 2:59:58. Jimmy has been running consistently well lately and he truly deserved to break three hour barrier.
Amanda Hull, had an equally outstanding run, breaking the ladies club record and her personal best; finishing in an awesome time of 3:08:59.
Lynda Brown completed her second marathon running with her brother, Michael Todd, finishing in 3:45:24. Both were running to raise money and awareness of pre-eclampsia. Last year her sister in law, Michaels wife, suffered from pre-eclampsia and was extremely ill. There is currently no known cause for pre-eclampsia but it can be managed if caught early. APEC campaign to raise money for research and education into the condition and providing support for sufferers.
Di Cross, was pleased to finish in 4:14:48 and currently is recovering. Di has been battling with a back injury over the last 2 months and was disappointed not to have completed the route in a quicker time.
Finally, Jackie Hearne finished in 4:22:57 after deferring her entry from last year because of injury.
All members did very well and are pleased with their achievements.
Brighton Marathon, a week earlier had a second RRR, Sarah Thorn running in support of Bens Heroes' Trust. This is a children's cancer charity, providing financial aid and support to assist children with cancer in the UK. Sarah ran well, covering the distance in 3:46:27.