Committed Romsey Road Runners Anna Duignan, Gill Callus and Wendy Couper travelled to the wilds of north Devon to compete in the Exmoor Endurance Life 10k. The run was hilly, as you might expect along the rugged coast, with runners climbing 1,300 feet in windy conditions. All three were glad to finish and were pleased with their efforts. Anna was rewarded with coming first in her age category – in a time of 1:43:45. Wendy and Gill finished together in 1:55:31.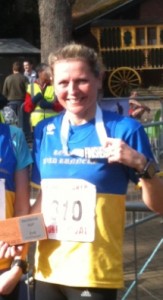 In Brighton, Tam Ryan and Sarah Thorn both put in stonking performances in the 4th Brighton Marathon. Tam, who has been running well all season, completed the 26.2 miles in an impressive time of 3.28.28, averaging 7.57 mile splits for the distance, whilst Sarah, who was running her first ever marathon, put in an excellent performance of 3.46.27, proving her strong return to running.
This is becoming a popular marathon with runners, with a record number of participants taking part. The weather stayed dry, and even the sun made an appearance at lunchtime. Many spectators turned out to cheer on the runners, especially along Madeira Drive towards the finish line.
We wish all those Romsey Road Runners who will be taking part in this weekends' Virgin London Marathon, all the very best.