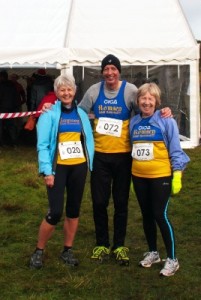 On Sunday 28 October, Jimmy Hunt took part in the Swashbuckler Duathlon consisting of a 5.5km run, a 20km bike and the same 5.5km run to finish off. Starting at the picturesque Bucklers Hard on the banks of the Beaulieu River, the run course took in a relatively flat out and back route that set the scene for a fast time. The bike route headed off through the beautiful village of Beaulieu before a loop back out across the Forest and back to Bucklers Hard, followed by the final run. Jimmy was pleased with his performance, finishing 5th overall in 1 hour 20.
Sunday also saw The Great South Run. The flat circular route around Portsmouth starts and finishes adjacent to the seafront, it takes runners through the historical dockyard, past Portsmouth Cathedral and Spinnaker Tower, en-route. It is a popular event which in now into its 3rd decade. This year, Jo Pavey (GBR) took the women's title in a time of 53:01 and Stephen Mokoka (RSA) took the men's title in 46:40.
Romsey Runners performed well. Amanda Hull was first to cross the finish, in an excellent time of 64.40 minutes, 10th lady. Wayne Windebank was first man home in 1.11.08, he was followed by:- Candice Snelling 1.13.23, Colin Wood, 1.28.31, Alison Soloman, 1.35.20 Alice Lane, 1.33.29 and Lindsey Dunford 1.45.04
Slightly further afield, Wendy Couper took part in one of the Endurance Life Coastal 10K Trail Series, in Dunwich, Suffolk. The course took runners across Dunwich Heath and Minsmere RSPB nature reserve, offering stunning coastal views and sea breezes. Wendy ran with Keith and Lesley Stone, former Romsey Runners who have recently moved to Southend.  The weather was a mixture of sunny spells with heavy showers; consequently it was very muddy underfoot.
Keith's was first to finish in 70.47. Wendy completed the course in 85.55, followed by Lesley in 86.25.