A pair of Romsey Road Runners braved mud and high winds to complete The Stickler – aka the Dorset 3 Peaks Challenge on Sunday 27th October. Overnight rain cleared giving runners a sunny but breezy start. The wonderfully scenic 10-mile route, which starts at Shillingstone near Blandford Forum, takes in some glorious countryside, a hill fort, and three steep climbs. The highest, less than a mile from the start, involved a 800ft climb, and is followed by Hod Hill at about 500ft and Hambledon at just over 600ft.
With a cut-off time of 21/2 hours, the field was pursued by the terrifying spectacle of the Grim Sweeper, who turned back those who didn't reach the halfway point in 75 minutes. Mark Adams and Di Cross avoided his attentions, finishing in 1hr 31mins and 1hr 45mins respectively. This was the second time Di has completed the course, shaving 13mins off her 2010 time.
Just under 30,000 people took to the streets of Portsmouth and Southsea to participate in the Bupa Great South Run, on Sunday 27th October. There was a strong contingent of RRR, 9 in total. They battled against the strong winds, especially throughout the last 2 miles of the course which took runners alongside the sea front. Thankfully, the weather remained dry.
First home was Christopher Stocks in a time of 1:16:13 and first Romsey lady was Becky Tovey, finishing in 1:22:00. They were followed by Andrew Archibald 1:22:48, Stuart Mullen 1:21:17, Sarah White 1:23:00, Colin Wood 1:30:46, Alison Solomon 1:46:09, Lindsey Dunford 1:47:38 and Wayne Windebank, in just under the 2 hour mark (1:59:25).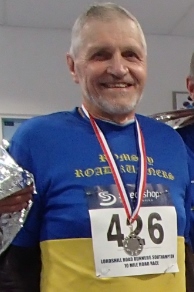 And finally, the duo of Paul Burnage and Frank Ourique completed the Lordshill 10 mile road race last Sunday. A flat course set in southern Test Valley is now well established, attracting 500 or so local runners. The route is pleasant and well organised, consisting of distinct parts, taking in part of the Broadlands Estate but also includes a lap around the Nursling Industrial Estate. Runners finish on muddy grass of 5 Acres, Redbridge Lane, cheered on by family and friends. Paul Burnage finished in 1:15:13 and Frank Ourique in 1.28.26.