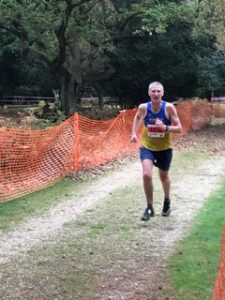 Close to home, a lovely local race is the Totton Stinger, a multi terrain run through the beautiful New Forest on trails, woodland and heathland. This year three distances were offered to runners, 5 miles, 10 miles and 13.1 miles. Romsey road runners took on all three in impressive style! In the 5 mile distance Sue Stileman finished second in the V40 category in a time of 49:38 whilst Anna Duignan came in second in the V60 category in 55:08. Another win for was had for Mark Stileman in the 10 mile race, who crossed the line first overall in an amazing time of 1:08. Also running 10 miles was Penny Jennings in 1:31, Joanna McKenzie in 1:36 and Mark Adams in 1:58. The remarkable performances continued in the half marathon too, Neil Jennings was second overall in 1:26 and Sue Sleath was 1st Lady (7th Overall) in a fast time of 1:42, Jim Wright was eighth overall in a time of 1:43. The same weekend saw Elizabeth Prinsep run the Exeter's Great Western Run in fantastic PB of 1:54 coming 12th in her age group.
Last weekend, was the turn of the famous and extremely popular Great South run. This 10 mile road race held in Portsmouth passes landmarks such as HMS Victory and the Spinnaker Tower. Romsey Road Runners put in fabulous performances with all our competitors accomplishing personal bests! Times included Alex Prinsep 1:07:16, Dave Gardner 1:11:36, Ian Winkworth 1:13:11, Mark Winkworth 1:15:46, Liz Prinsep 1:24:40 and Karen Pethick 1:53:56. Meanwhile Mark and Sue Stileman travelled to Woodstock, Oxfordshire to take part in the Blenheim 10k, a mostly flat race but undulating in parts. Mark finished 7th male overall in 38:58 and wife Sue was 29th female overall in 53:42. The remarkable results continued at the Abingdon Marathon a race first held in 1982 that incorporates a number of Championship events. Places on this event fill up early as is a flat fast PB course, and it certainly was for Romsey's Alice Lane who achieved her personal best of 4:16, followed by Brenda Topliss in 4:44.
Finally, to end this impressive run of results, this weekend saw our runners compete in three races; the inaugural Breamore 10k, the challenging Beachy Head marathon and the Dorset stickler. The Breamore 10k, a completely traffic free course on bridleways and estate tracks takes in the wonderful setting of Breamore House and there's even tea and cake at the end! Sue Stileman reported the race was hilly but managed a good time of 59:46 and Anna Duignan came 4th in her age category in 1:07.
The Eastbourne Beachy Head marathon is one of the biggest off-road marathons in the UK. This challenging event, set against the stunning backdrop of the South Downs National Park, sees thousands of runners take part including Romsey's Tamatha Ryan and Sue Sleath. The scenery is awesome and the clear sunny weather provided great visibility on this beautiful day, Tamatha said "this almost made up for the hideous ups and downs". Sue and Tamatha both had great times for this tough race, with times of 4:04 and 4:21 respectively.
The Dorset Stickler is a friendly and popular race that takes runners over 1500ft climbing across three peaks of Dorset: Okeford Hill, Hod Hill and Hambledon Hill. Our runners reported that they had great weather to experience the serious hills and the stunning views, times included Mark Stileman 1:14, Jim Wright 1:26, Abigail Cooke 1:29, Julie Shanker 1:48, Alice Lane and Jim (her dog!) 1:52 and Paul Whitaker in 1:54.