Clarendon Marathon proved to be a winner for Romsey Road Runners this year!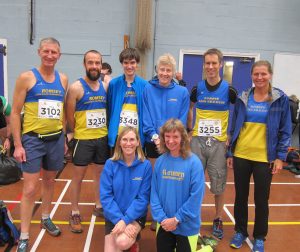 Travelled in the past by ancient Kings and Queens, the picturesque route follows mostly trails & tracks from Salisbury to Winchester but the race was made rather more challenging this year by the recent rain. However, this did not deter Romsey's Matt Hammerton who appeared in fine form finishing 3rd overall in an impressive time of 3:02. The chasers weren't far behind him, battling it out Neil Jennings was next to finish in 5th place in 3:13 closely followed by Mark Stileman in 3:15, 6th overall also earning him 1st place in his age group! Ian Ralph had a solid run finishing in 3:30 and 18th place overall. The ladies certainly didn't disappoint either, Sue Sleath had a fantastic run and was pleasantly surprised to learn she was 1st lady and 29th overall, in a time of 3:45. Tamatha Ryan also had a superb run finishing in 4:16 also winning her age category.  Clarendon offers several distances. Penny Jennings consistently runs the half marathon every year, this year she finished in 2:07 followed by Sue Stileman in 2:20 and Bob Gold in 2:41.
Starting in the same city, the Salisbury half proved a good race for Romsey personal bests; Dave Gardner earned himself the first one finishing in a time of 1:37, Mark Winkworth was next in 1:44, another PB, closely followed by his brother Ian Winkworth in 1:45. Jo Blatherwick achieved the next PB in a time of 1:54 and not far behind was Ben Sharman in 2:00 and Alice Lane in 2:41.
Anna Duignan travelled to be on home soil to complete in the Great Scottish Run in Glasgow. Despite the plentiful rain, Anna beat her time from last year coming in 2:05 and fifth in her age group. Her daughter, an ex RRR runner also had a great run in 1:32.
The following weekend saw another great set of results from the Bournemouth marathon festival. On a warmer day than expected several distances were offered, on the Saturday Trevor Bond competed in the 5km finishing in 23:24 gaining a PB and finishing third in age. Ian Winkworth ran the 10km distance with his wife Katy completing in 58:33 and Elaine Bond finished in 1:14. The half marathon provided Matt Hammerton with another impressive run finishing in 1:14, 6th overall and 1st in his age group. Matt has now qualified for a championship place in the London Marathon, all the more impressive only a week after running the Clarendon marathon! Richard Cross was next to complete the half marathon distance in 1:45 and Keith Morris achieved a PB finishing in 1:51. Finally, James Battle completed his very first marathon in a highly commendable time of 3:15 with Alice Lane also taking on the distance and finishing in a great time of 4:52.