Romsey Road Runners have been hard at it!
Tamatha Ryan ran the Chiltern wonderland 50mile ultra race on the 16th September. A circular route starting in Goring on the popular Thames tow-path, taking in the beautiful Chiltern Hills and picturesque villages made famous by British film and TV. This event is the 3rd of 4 in the 50mile grand slam that Tamatha has now completed finishing this in a time of 9hours 41mins and 6th lady overall. During the weekend Abi Cooke took part in several races on the Isle of Wight. These included: Race 1  St.Boniface Fell 3.8k, Abi finished in 25.20mins Race 2 The Ventnor Horseshoe 12km completed in 1hr 18mins; Race 3 The Wroxall Round 21km which Abi finished in 1hr 58mins gaining her a 16min personal best.
Also that Sunday was the more local Hursley 10km always a popular race for Romsey Road Runners and an especially muddy one this year. Mark Stileman didn't disappoint finishing in the top ten in a time of 41mins and first in age, Sue Sleath followed in 46.25mins (2nd in age), Ian Winkworth 51.33, Paul Whitaker 51.59, Alice Lane 56.23, Julie Shanker 56.43, Sue Stileman 57.57 and Maria Hartley-Oinn 1 hour.
With races plentiful Mark Winkworth got a great personal best in the Andover food bank 10km finishing in 45.30 and James Battle flew round the Littledown 5mile race in 28.49.
Sunday 24th Sept was host to two popular half marathons and Romsey were keen to take part. The Solent half twists through the New Forest, around Exbury and along the Solent shore at Lepe. Dan Lurcock was first home in a fantastic time of 1.35 followed by Sue Sleath in 1.37 (1st in age). Abi Cooke gained another personal best in 1.41, James Instoe 1.51 and Brenda Topliss 2.10.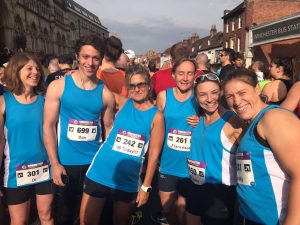 Alice Lane chose the Winchester Half marathon to mark her "Big Birthday" and a large group helped her celebrate. Ian Winkworth finished in 1.44 followed by Becky Tovey in 1.47, Mark Winkworth in 1.51, then Richard Cross 1.51, Julie Shanker (PB) 1.55, Fran Hough 1.59, Birthday Girl Alice 2.07 and Anna Duignan 2.18. Meanwhile, Mark Stileman and his wife Sue took part in the Highclere 10km, Sue crossed the line in 52.54 and Mark put in another great performance finishing in 37.29, 7th overall and first in age.