Breamore 10km was back for its second year on the 29th October. Run on trails around the estate Alice Campbell completed the two-lap course in 54.35mins followed by Anna Duignan in 1hr. Wendy Couper finished the 5km option in 40.05mins winning her age category. Meanwhile Mark Stileman thoroughly enjoyed one of the biggest off-road marathons in the UK; The Beachy Head Marathon. This race incorporates the famous seven sisters in the last five miles. Mark finished in a fantastic time of 3hrs 25mins placing him 2nd in his age category, his wife Sue also enjoyed the 10km race finishing in a time of 1hr 2mins.
Romsey's Liz Prinsep travelled to Dublin to run her first road marathon. Liz finished in a brilliant of 3hrs 46mins, meaning Liz has qualified to apply for a good for age place in the London marathon.
The following weekend saw the Oakhaven half marathon which Alice Lane completed in 1hr 53mins and 1st in her age group and Jo McKenzie in finished in 1hr 59mins. At the Hayling 10mile Liz Prinsep achieved a time of 1hr 24mins.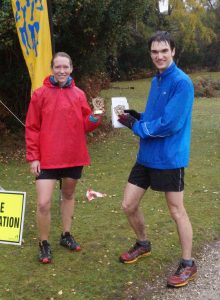 Romsey went on to clean up at the picturesque New Forest Stinger this year. Neil Jennings won the 5-mile race in 35.35mins closely followed by James Battle in 2nd place in a time of 36.15mins and Mark Suddaby 5th in 39.59mins. The ladies were on form too and Becca Lurcock was first lady to finish in a time of 44.21mins with Sue Stileman in 51.36mins, Anna Duignan 57.28mins and Wendy Couper 1.16mins. In the 10mile race Mark Stileman was 2nd overall in 1hr 05mins with Becky Tovey 4th lady in 1hr 15mins, Abi Cooke 1hr 22mins, and Penny Jennings 1hr 36mins.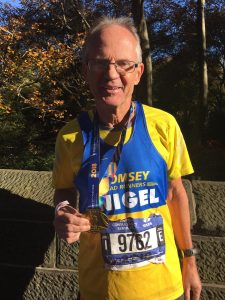 Three Romsey Road Runners were fortunate enough to fly over the pond and take part in the amazing New York Marathon. Liz Slade decided she would use it to mark the occasion of a special birthday with friend Annie Tomlinson. They weren't disappointed and some great goals were achieved firstly by Nigel Hemsted who earned himself a good for age place by easily making the qualifying time finishing in 3hrs 35mins.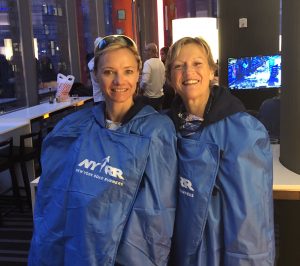 Liz and Annie shared the experience together and crossed the line in 4hr 23mins earning Liz not only a Personal best but also a good for age qualification.