September has had a spectacular start for Romsey Road Runners so far and it hasn't all been about running! Sunday 2nd Sept saw the start of the Hampshire road race league, the first race, the Overton 5 mile, is an undulating 5-mile loop. Alex Prinsep was first home for Romsey in 30.04 minutes (PB) closely followed by Mark Stileman in 30.52 mins. Sue Sleath came 2nd in her age category finishing in 35.22 mins followed by Liz Prinsep 42.21 mins, Sue Stileman 41.19 mins and Brenda Topliss in 43.33 mins.
Meanwhile, Steve Bullock was fortunate enough to take part in the Half Ironman 70.3 Isuzu world championship in South Africa. Steve finished in a total time of 4 hours 57 mins with a swim time of 35.54 mins, bike time of 2 hours 35 mins and half marathon run in 1 hour 39 mins.
The popular New forest Marathon took place on Sunday the 9th September offering runners various distances. Amanda Hull came 2nd lady in the 10km finishing in a time of 42.51 mins and Anna Duignan completed the race in 1 hour. Alex Prinsep had a great run in the half finishing 13th overall in a new personal best of 1 hour 22 mins, and the PB's just kept coming, Remi Francois 1 hour 33 mins (PB), Liz Prinsep 1 hour 48 mins (PB), Keith Morris 1 hour 48 mins (first half marathon, PB), Liz Slade 2 hours 1 min and Susie Parker 2 hours 6 mins (PB). Alice Lane toughed it out in the marathon finishing in 5 hours 11 mins.
Cliff Reeves completed the Bournemouth Sprint distance triathlon in 2 hours 37 mins and even managed to finish the 10km run with a PB!
The grand finale has to go to Becky Tovey making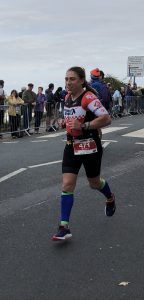 her debut at the Iron Man triathlon distance in Wales. One of the toughest Iron Man courses set in the seaside town of Tenby the 2.4-mile swim takes place in the choppy seas of Tenby's north beach. The 112-mile bike ride is set around some brutal country lanes of Pembrokeshire with narrow sections and sharp turns. The course ends back in Tenby with the small matter of 26.2 miles to run. The crowds came into force to cheer on the tiring runners completing 4 laps around the town of Tenby. Becky finished the challenging course to the unforgettable words "BECKY TOVEY YOU ARE NOW AN IRONMAN!!" in the fantastic time of 12 hours 59 mins 19 seconds. Her swim time was 1 hour 23 mins, bike time 7 hours 4 mins and run time 4 hours 18 mins. Becky came 8th in her age category, 47th out of 203 females and 726th out of 2044 overall