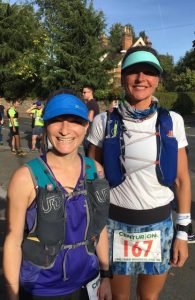 On Saturday 8th October Abigail Cooke and Tamatha Ryan challenged themselves with the Chiltern Wonderland 50 race. A 50mile single loop with 5600ft of climb around the Chiltern countryside and picturesque villages made famous by British film and television. Tamatha completed the very challenging course in 9hrs 10mins, 5th lady, 1st in age and 30th overall. Abigail followed closely in 9hrs 50mins, 10th lady and 61st out of 211 finishers. Elsewhere, Alex and Liz Prinsep took part in the Eaton Dorney triathlon. Alex completed the Olympic distance in 2hrs 34mins whilst Liz made her debut in the Sprint finishing in a time of 1hr 56mins.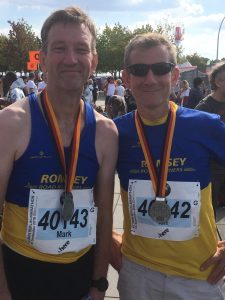 Brothers Mark and Ian Winkworth travelled to Germany to take part in the 45th Berlin marathon which saw Kenyan Eliud Kipchoge set a new world record in 2.01.39! Ian completed the fast course in a personal best time of 3hrs 27mins and Mark finished in 4hrs 7mins. Meanwhile, Liz Slade and Annie Tomlinson ran the Goodwood 20mile as a training run for the New York marathon. Liz finished in 3hrs 15mins and 2nd in her age category and Annie in 3hrs 18mins.
Hursley 10km is always popular with Romsey Road Runners and this year was no exception. Mark Stileman was first to finish in a time of 39.04mins placing him 7th overall and 2nd in his age category, he was followed by Nigel Hemsted in 46.25mins, 1st in his age category, Paul Whitaker in 47.58mins, Sue Sleath in 49.18mins, 1st in her age category, Alice Lane in 54.37mins and Sue Stileman in 55.35mins.
The following weekend Daniel Lurcock completed the Solent half marathon, part of the Hampshire Road Race League, Dan finished in a fantastic time of 1hr 33.29mins. A slightly hillier option was the Winchester half marathon which saw James Cole first to finish in 1hr 34.11mins, closely followed by Becky Tovey in 1hr 36.49mins. Next home for Romsey was Ben Sharman in 1hr 49.10mins followed by Alice Lane in 1hr 56.38mins, Anna Duignan in 2hr 03.04min, 1st in her age category, and Paul Davies in 2hr 05.38mins.