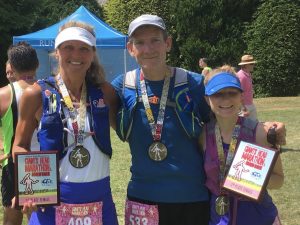 June 23rd saw the 6th Giants Head Marathon and 100th race for the Whitestar running Company. Starting in the beautiful Sydling St. Nicholas, the race runs through the very challenging and hilly Cerne Valley and under the famous Giant. Despite the heat of the sun, it was a good day for Romsey with not one but two podium finishes. Tamatha Ryan finished 1st lady in 4.14 and 10th overall, closely followed by Abi Cooke who finished 2nd lady in 4.32 and 23rd overall. Ian Winkworth came in at 4.36, 2nd in age out of 465 finishers, whilst Pete and Maria Hartley-Oinn ran the Sydling Bell 10km finishing in 1.05 and 1.16 respectively. On the Sunday of the same weekend, Stuart Pinch, Ray and Linn Webb all ran the Southampton Airport Runway run 5km.
Romsey also fielded a good contingent in the ever popular Lordshill 10km. This proved to be another hot run but still some great times were recorded. Alex Prinsep 38.30, Mark Suddaby 38.48, Amanda Hull 42.29, Nigel Hemsted 44.26, Becky Tovey 44.59, Mark Stileman 45.28, Paul Whitaker 48.23, Liz Prinsep 48.47, Brenda Topliss 50.42 and Sue Stileman 54.26.
With the new month came new goals. The Summer Plod took place on the 1st July and four Romsey Road Runners enjoyed the tough but picturesque 10mile route around the Meon Valley. Mark Stileman was 1st home finishing 4th overall and 1st in age in a time of 1.18, Hannah Semeraro had a good run and came 4th lady in 1.34, followed by Abi Cooke 6th lady in 1.38 and Sue Stileman in 1.53. Alice Lane also had a great start to the month finishing 3rd lady in the Abbotts Anne 10km in a terrific time of 56.43.