Romsey Road Runner, Nigel Hemsted, whilst on holiday in Scotland was tempted to enter a local 10km race 'Vale of Leven'. Nigel completed the flat course in 44.33 and was 2nd in his age category. The following weekend, on the 8th June, twelve team mates travelled to Reading to take part in the Endure24 event.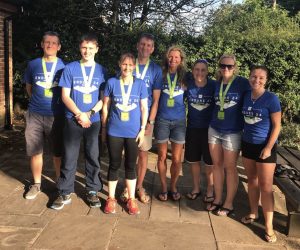 Considered to be the 'Glastonbury' for runners it is a 24-hour race consisting of a 5-mile loop around beautiful surroundings of Wasing Park, with all camping facilities available. Runners set off at midday on Saturday and run as many laps as they can in 24 hours. There are many options for different types of groups; solo, pairs, small and large teams. Becky Tovey and Tamatha Ryan ran as a pair clocking up 29 laps in 23 hours 48 mins and 145 miles between them, winning them 1st place in the female pairs. Abi Cooke joined Alex and Liz Prinsep to run as a small team completing 26 laps in 23 hours 48 mins. Mark and Ian Winkworth made another small team with Marc Nichols completing 25 laps in 24 hours 1 min. Finally, Alice Lane, Jo McKenzie and Julie Shanker put in a sterling performance, unfortunately Julie was forced to pull out on her first lap due to a knee injury meaning Alice and Jo had to carry on as a pair. The girls managed 17 laps in 22 hours 46 mins.
Meanwhile on Sunday 9th June, Sue Sleath travelled to East Sussex for the Weald 50km Ultra Trail Challenge which she completed in 5 hours 43 mins. The same day, Francesca Hough took part in the internationally acclaimed event Man V Horse, an extremely popular race that has been taking place since 1980 in Llanwrtyd Wells, Wales. Runners quite literally race horses and their riders to the finish, Francesca completed the tough course in 5 hours 15 mins. On the Sunday of this weekend, Mark and Sue Stileman ran the Lacock 10km, Mark finished in 42.21 and 1st in age and Sue came in 53.30.
The following weekend, Saturday 16th June, saw Tamatha Ryan complete the beautiful South Downs marathon in 4 hours 2 mins placing her 1st in her age group. Kate Olingschlaeger and Ben Sharman thoroughly enjoyed the half marathon with Kate finishing in 1 hour 56 mins and Ben in 2 hours. Sunday 17th saw the postponed Eastleigh 10km take place. The weather was perfect and eleven Romsey Road Runners put their training to the test and were not disappointed with some fantastic personal bests achieved. Neil Jennings just missed out dipping under 35 mins but still got a PB with an amazing time of 35.04, other times included Alex Prinsep 37.26 PB, Mark Suddaby 38.45 PB, Ian Winkworth 39.51 PB, Rémi Francois 40.28 PB, Ray Webb 46.41 PB, Keith Morris 47.01 PB, Liz Prinsep 49.01 PB, Nikki Skeates 58.41, Linn Webb 1.01 PB and Bridget Wells 1.01.
Elsewhere Mark Winkworth and James Wilson opted for the Arlesford 10km with the pair finishing in 46.42 and 49.04 respectively. Mark and Sue Stileman ran the Cheltenham Challenge 10km, Mark finished 5th overall in 42.11, 1st in age and Sue finished in 58.53. Finally, to round off a series of tremendous results, Kirsty Jones won the Falkirk Race for life 5km in a fantastic time of 20.02.