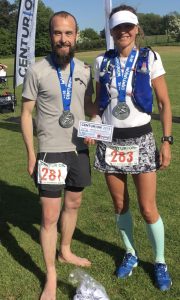 On the 19th May Romsey's Ian Ralph and Tamatha Ryan made light work of the Centurion Running North Downs Way 50 miler. Starting in Farnham and picking up the North Downs trail through Guildford, the tough course incorporates numerous sets of steps, the hardest being 274 up Boxhill at only the half way point! The trail continues on to Reigate Hill and finishes on the outskirts of London. Despite the hot sun and a total climb of 5,600ft the pair rose to the challenge with Ian not only smashing his first Ultra race in a fantastic time of 8 hours 27 mins placing him 15th overall, but enjoying it too. Tamatha also had a great run finishing in a time of 9 hours 4 mins and was rewarded by not only coming 3rd lady overall but by being presented her medal by the world record breaking ultra-runner, Mimi Anderson.
The following day Dave Gardner and Liz Prinsep took part in the Hook 10 mile race, a rather undulating course not made any easier by the hot weather again. However, Dave still managed a personal best finishing in 1 hour 13 mins with Liz not far behind in 1 hour 26 mins. Sue Sleath and Brenda Topliss stayed closer to home running the Hampshire road race, Netley 10km, Sue finished in 43.29 mins and Brenda in 52.35 mins.
Meanwhile, Romsey Road Runner James Groves used the Swashbuckler middle distance triathlon as training for his upcoming Iron Man UK, James finished the 1.2 mile swim, 56 mile bike ride and 13.1 mile run in 5 hours 21 mins.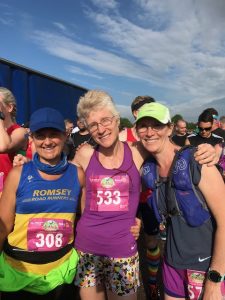 On the 27th May Sue Stileman made her debut at the marathon distance completing the Dorchester road marathon in 4 hours 25 mins. This race runs through picturesque villages and Sue enjoyed her experience alongside two other Romsey runners; Sue Sleath who had a good run in the warm conditions finishing in 3 hours 55 mins, followed by Alice Lane in 4 hours 42 mins. Run in conjunction, the Casterbridge half marathon route takes in the beautiful Puddletown forest and joins the marathon route to finish the course. Ian Winkworth and Liz Prinsep enjoyed the race finishing in 1 hour 38 mins and 1 hour 59 mins respectively.
Meanwhile Becky Tovey and Emily Gordon made the long journey up to Edinburgh to complete what is the UK's 2nd largest marathon. An all-encompassing route which runs through the heart of Edinburgh, with the iconic castle as a back drop, local sights are abundant. The race has a descent of almost 90m to the finish, it is believed not only to be the fastest UK marathon route, but also the world's. Both girls had a fantastic run breaking some bench mark times, Becky finished in 3 hours 29mins and Emily in 3hours 59mins.