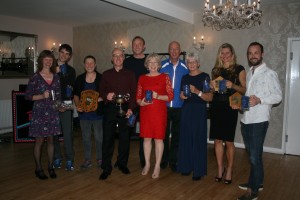 Romsey Road Runners' Annual Awards Night dinner was recently held at Ampfield Golf & Country Club and was a lively affair, with more than 40 ­members turning up to congratulate this year's top performers. Following a three-course meal, Chairman Tony King presented the winners with their trophies, plus an engraved tankard as a keepsake. In addition to the regular awards, a special award went to Wendy Couper for her category win in the 2015 RR10 series. Keith and Lesley Stone were winners of the Chairman's Award for their role in establishing the club 30 years ago this year, receiving customised running jackets to accompany the trophy and Penny Jennings also received a special award for having run the most ever RR10s (an impressive 172). Penny also won the Chocolate Trainer Award, for having lost a record number of shoes whilst racing!
RRR PRIZE WINNERS 2015
Best club runner in CC6s (Men): Neil Jennings
Best club runner in CC6s (Women): Tam Ryan
Best club runner in RR10s (Men): Neil Jennings
Best club runner in RR10s (Women): Becky Tovey
Special Award: Winner of RR10 FV70 category: Wendy Couper
Special Award: Most RR10s Ever Run: Penny Jennings (172)
Club Time Trial Champion: Vicky Pelling
Men's Pentathlon: Ian Ralph
Women's Pentathlon: Tam Ryan
Vets' Pentathlon 'G' Cup: Paul Burnage
Chairman's Award: Club founders Keith and Lesley Stone
Sally Sillence Award: Julie Shanker
Road Runner of the Year: Becky Tovey
Special award for racing with one shoe: Penny Jennings
In addition to socialising, a number of RRRs have been in action in recent weeks. On 29th November James Battle (1:29:51), Kelly Fairbrother (1:47:55 PB) and Alice Lane (1:55:09 PB) took part in a hilly, wet and windy Downton Half Marathon.
6th December saw the Dorset leg of the Endurance Life series with Tamatha Ryan (5:13:27) finishing 1st in her age category and 4th lady overall, Stuart Leishman (6:06:15 PB) and Becky Tovey (6:11:32) completing the 27 mile marathon. Marie Duignan completed the 16.3 mile "Half Marathon" in 3:39:14. Finally Anna Duignan (1:25:11) and Wendy Couper (1:40:58) completed the 10k.
Well done to all.