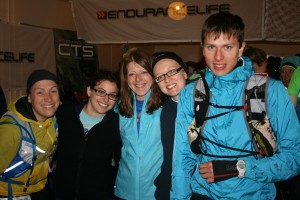 A dozen intrepid Romsey Road Runners headed west to Pembrokeshire for the penultimate leg of the Endurance Life Coastal Trail Series 2014/15 over the spring bank holiday – the club's annual weekend away.
The races – ranging from 10k to a 35 mile ultra – began on the slipway in the pretty village of Little Haven. What started as a dull but overcast day soon deteriorated into driving rain and high winds, making the narrow coastal paths tricky to negotiate and obscuring some of the glorious views out over Marloes Sands and the stunning coastline towards St Brides. The headwind facing runners at the disused Second World War airfield, RAF Dale, was especially challenging – though runners agreed it would have been an even greater challenge trying to land a plane in those ferocious gusts.  Even the local kite festival was cancelled!
First off at 8.30am was Toby Burrows in the Ultra. Having run the London Marathon the previous weekend, he finished the 35-mile route in an impressive 6:00:29, 11th man home overall. Becky Tovey and Di Cross set out half an hour later on the 28-mile marathon course. Becky just missed the medals, finishing 5th in the women's race in 4:50:41, with Di – running her sixth race in the series – finishing an hour later in 5:51:46, 2nd in age category. Lindsey Friedman and Naomi Farrington started 90 minutes later in the half marathon, running together to finish in 3:42:42 and 3:42:46 respectively.
The club was well represented in the 10k, with five runners tackling the linear route from Marloes back to Little Haven. Brenda Topliss was first of the Romsey contingent home in 1:35:06, 1st in the FV60 category, followed by Anna Duignan in 1:36:32 (2nd in Category), Ruth Page in 1:43:53 (3rd in category), Wendy Couper in 1:46:49 and David 
Page 1:57:20 (3rd MV60).
It took some time for the Romsey Road Runners to thaw out and dry off afterwards but all enjoyed the trip to Wales. In common with the other events in this series, the races were well organised and friendly, taking in some glorious stretches of British coastline. Highly recommended for lovers of the great outdoors – and a challenge.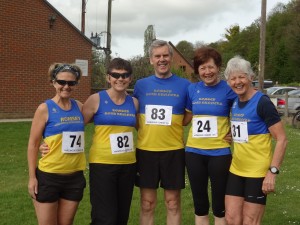 Also, on the same weekend, a 5 RRRs took part in the Harewood Forest 10k at Wherwell. Including Anna Duignan and Wendy Couper, fresh back from Pembrokeshire.
This annual cross country race has a challenging course with several climbs and takes place in the heart of Hampshire's second largest woodland. First home for Romsey was Alice Lane in 58:02 followed by Julia Abab 1:00:05, Anna Duigan 1:04:41, Derek Kelly 1:05:27 and Wendy Couper 1:17:16.