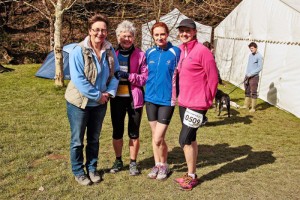 One of the series of Endurance Life Events, took place on Saturday 11th April, this time in lovely Exmoor. It is billed as the toughest course in the series and is definitely a grueling test of endurance for even the very hardest trail and fell runners. This didn't put off a hardy group of RRR who ventured to Devon and enjoyed the pleasing scenery offered by this challenging trail event. The Romsey contingent did well and were rewarded for their efforts. Results were as follows:
In the 10K distance, Lynda Brown finished in 1:14:26 and was placed 3rd in the FV40 category whilst Wendy Couper finished in 2nd place in the FV60 category in a time of 1:49:49. In the Half Marathon, Di Cross finished in 2:45:11.
The ladies were cheered on by two former RRRs: Carol Brunner – who now lives in the Heddon Valley – and Angie Stuckey.