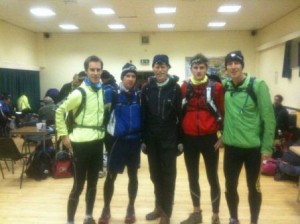 Four intrepid Romsey road runners, Matt Hammerton, Steve Reed, Jimmy Hunt and Toby Burrow made the long trip to the small Welsh village of Talybont on Usk in the Brecon Beacons National Park for the Sleepwalker night race, a 20 mile off-road self-navigation trail race with a mixture of tram paths, fire tracks, marsh and moorland based around the Talybont reservoir with the added challenge of it being at night, starting at 6pm. The weather was far from ideal having been raining for the whole day making the course more of a challenge!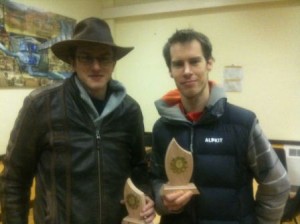 The pace started steady with Matt and Toby breaking free at the front with Jimmy in the following group and Steve not far behind. As the race progressed Matt and Toby built a comfortable lead through varying depths of mud and water! Holding that lead until Matt broke away to win the race in 2 hours 40 by a minute from Toby who came an excellent 2nd place. Jimmy finished 6th in 2 hours 47 with Steve finishing in 25th in 3 hours 34.
The race was enjoyed by all with a sense of relief and achievement at getting to the finish in one piece.