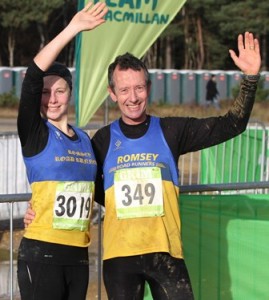 On Saturday 1st December, Candy Snelling, Paul Bradley and around 3,000 other runners braved the waist deep, ice covered, puddles and mud of the 'Grim'. This is an 8 .5 mile cross country race at Aldershot, on a military vehicle testing facility in aid of Macmillan Cancer Support.
There was added spice to the race as Candy and Paul work in the same building and had a bet that the looser would buy cakes for the others' office. On the day it was youth that triumphed over experience as despite both getting personal bests for the course of 1:08:26 (243rd) for Candy and 1:11:21 (358th) for Paul.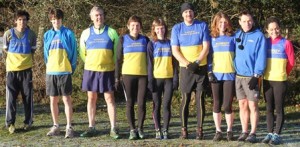 The same weekend also saw10 Romsey RoadRunners take part in the CC6 cross country race at Janesmore Pond, organised by Lordshill andWessexrunning clubs. It was a bright and frosty morning perfect for runners. The marshals got into an early Christmas sprit and were dressed as Father (or Mother) Christmas and provided some well earned refreshments at the end.
Shantha Dickinson had another outstanding run to finish second lady to follow up from her win in the previous event. First home for the men was Christopher Brown in 27th, closely followed by Mark Adams in 28th. Other Romsey runners were Di Cross (16th), Penny Jennings (26th), Jo Weguelin (39th), and Julia Abab (42nd) and for the men, Wayne Windebank (42nd), Neil Jennings(48th) and Derek Kelly (75th).