FIVE RIVERS, FOUR HILLS…..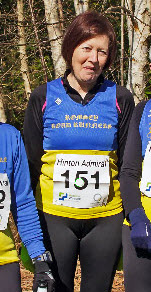 On a gloriously hot Sunday (9th August), several Romsey Road Runners crossed over into Wiltshire for Salisbury's 5-4-3-2-1 – that's 5 rivers, 4 hills, 3 country estates, 2 castles and, of course, 1 cathedral.
Certainly one of the most scenic races on the local calendar, the trail event – with distances ranging from 50k down to 10k, and open to walkers as well as runners – starts opposite the city's fire station and then heads off around Wessex, taking in English Heritage sites as well as private land not normally open to the public.
Nick Day definitely checked off all the landmarks listed, finishing the Ultra – his first run over this distance – in 6:16:14. Mike Roberts ran the marathon (42k) in 4:40:57 with Di Cross following him in 5:09:08.
Three runners completed the half marathon (21k), with Anna Duignan winning the FV65 category. Mark Adams was the third M40 in 1:41:31 with Paul Burnage next home in 1:57:46.
"One of my favourite events of the year," said Di, "though I looked like a bright pink panda by the time I'd finished – less chatting and admiring the scenery, more sunblock next time!!