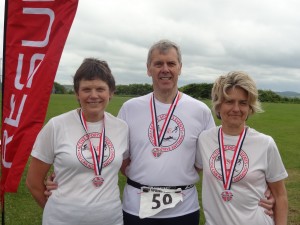 Three Romsey Road Runners travelled to Royal Wootton Bassett in Wiltshire on 31st May to take part in a sprint triathlon.
The triathlon consisted of a 400m pool swim, 20km bike ride and a final 5k run. 'Conditions were wet and windy making the event a little more interesting,' reported Derek Kelly.
The fastest time from the Romsey contingent came from Derek Kelly – who won his age category. Derek had a combined time of 1:30:35, (9:25 swim, 47:09 bike, 30:17 run).
Alice Lane followed in second place, finishing 10th in age category. Alice's total time was 1:34:11 (9:09 swim, 52:39 bike, 28:39 run) and third was Julia Abab. Julia, finished 4th her in category, in a time of 1:46:28 (12:55 swim, 1:00:58 bike, 28:17 run). Julia's time included an unscheduled pit stop to replace her chain, adding an additional 7 minutes to her time.