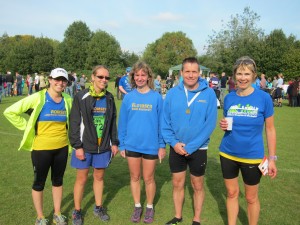 Last weekend was just perfect for running and enjoying the outdoors; many RRRs did just that.
The Clarendon Marathon, stretching from Salisbury to Winchester, using as the name suggests, the off road Clarendon Way to transverse across from Wiltshire to Hampshire. Runners were afforded some stunning long views as they negotiate the undulating route. The half way point is Broughton in Test Valley, Where the half marathon starts. There is also the option of a marathon relay.
Marathon results:
Mark Adams 3:32:18
Sue Sleath 3:42:38
Both Mark and Sue took a wrong turn at Broughton and had to cover an extra
0.4 of a mile.
Half Marathon results:
Mike Roberts  1.48.50
Becca Lurcock  2.05.19
Penny Jennings 2.05.41
Hannah Richardson 2.12.15
Lindsey Friedman 2.20.27
Marion Kelly    2.31.28
On the South Coast participating in the Bournemouth Runfest 10km were:
Trevor Band, finishing in 51:18 – 6th in his age group and Elaine Band,  finishing in 1:10:36 and 7th in her age group.
At the longer marathon distance were Dave and Sue Gardener, who finished in 4:24:16 and 4:51:07 respectively.
And finally, Anna Duignan ran the Great Scottish Run half marathon on Sunday in Glasgow. Anna got a massive PB with a finish time of 1:59:51, breaking the magical 2 hour mark. Anna came 2nd in her age (F65-69) and 1095th female out of 3520. Her family were very proud.