As the festive season approaches, the Keyworth Turkey Trot, half marathon took place last weekend, organised by the local Scouts. The race you imagine is a gentle affair by the name, however, the course is a single circuit, all on road, starting and finishing in the village of Keyworth, South Nottinghamshire. Runners pass through the undulating rural scenery and villages of the Wolds, in what was described as a challenging event. Romsey's Matt Hammerton finished in 5th place in a time of 1hr 16m 15secs.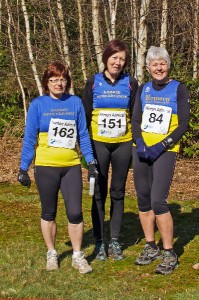 A trio of Romsey ladies: Wendy Couper, Anna Duignan, Gill Gallus participated in the 10K Endurance Life event from Lulworth Cove, Dorset, last weekend. The event was graded as "extreme" and according to 3 RRR, that was a 'very good description'.  'The Jurassic Coast path is amazing to run along and very undulating', said Couper afterwards. The 10k stage of this event takes runners up 1200 feet of ascent, offering some stunning views of the fabulous Jurassic coast.
The trio performed stonkingly very well, claiming the first 3 places in the FV60 category. First back was Anna Duignan in 1.25.23, followed by Wendy Couper in 1.30.44 and Gill Gallus 1.35.40 3rd FV60.  The winning trio put their fine performance down to the conditions on the day, which were very good underfoot and the weather was extremely kind, staying dry.
Duncan Walling ran the longer distance in the Dorset Coastal trail coming 171st with a time of 03:27:03 saying, 'That was tough!'