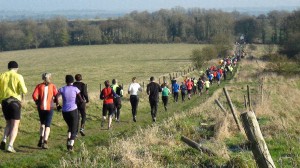 Lynda Brown and Tam Ryan did the Rough & Tumble on Sunday 13th January, in the worst conditions ever experienced by the organisers. The wet conditions, undulations and bog made running this multi terrain 10 miler challenging. The event takes place over the rolling landscape of Wiltshire's Pewsey Downs, starting from Milton Lilbourne Village Hall. The event is organised by Pewsey Vale Runners and attracted 500 hardy runners.
Tam completed it in 1:33:41 as 9th lady, 124th over all, whilst running partner Lynda was a minute later in 1:34:58. Lynda was 11th lady and 133rd overall.
Elsewhere, six Romsey Runners lined up in Stockbridge High Street for the annual George Skeates Stockbridge 8 mile cross-country event. Walkers, runners and cyclists can take part with the money raised going to the George Skeates Benevolent Fund. The route was as you might expect muddy in places, and with the odd hill thrown in for good measure. Around 200 local runners turned up to take part, on a crisp dry, sunny morning.
Runners started from the Town Hall on the High Street before leaving to find the mud off-road and out of the town. Runners then completed the event entering the town via,'Gum Boot Gully', which I'm told didn't disappoint on the mud and cold water front. Cake and warm tea followed. Finishers:- Neil Jennings 1 hour, Di Cross 1:07, Heidi Godfrey 1:08, Penny Jennings 1:12, David Page 1:21 and Ruth Page 1:22.