Romsey Road Runners supported the recent Romsey Relay Marathon, a charity event held each spring on the Broadlands Estate, to raise both funds and awareness for local charities. This community event, organized by the Rotary club of Romsey, was originally inspired as part of the Olympic legacy. The relay nature of this marathon gives an opportunity for anyone to take part, as part of a team who collectively run 26 miles and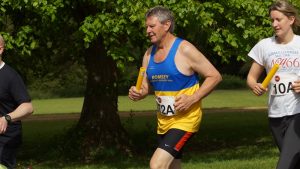 385 yards. Romsey road runner fielded two teams and a brilliant effort was put in by all 20 runners: Sue Sleath, Alex Prinsep, Jimmy Hunt, Daniel Lurcock, Jo McKenzie, Dave Gardner, Caron Gaisford, Colin Waters, Becca Lurcock, Wayne Windebank, Ken West, Trevor Bond, Karen Pethick, Bridget Wells, Nikki Skeats, Deborah Rees, David Nixon, Elizabeth Prinsep, Alice Lane, Anna Duignan. The teams really appreciated the encouragement from all the other runners and reserves who turned up in support, eagerly cheering the teams on. One of the teams finished a fantastic 3rd place overall in a time of 2:48:24 and other team in 3:47:07 and 56th position.
Also on Saturday 13th May, Tamatha Ryan completed the North Downs Way, a 52-mile feat of endurance running. The ultra run started in Farnham, continuing on the Downs Way national trail passing through Guildford and Reigate hill and finishing in Knockholt pound, Greater London. Tamatha finished in 10 hours 18 minutes and described the route as varied but picturesque with many challenging sections, especially the 274 steps up at Box hill!
Finally, Mark Stileman continued his recent run of impressive performances completing the Lymington Lifeboat 10K in a very respectable time of 37.49, finishing 16th overall out of 1,060 Runners! His good form continued the following weekend at the Netley 10K (38:36) and his wife Sue Stileman, a new Romsey Road Runner, had a fantastic run taking more than a minute off her previous time 10K finishing in 51:04. Mark Suddaby who ran the course for the first time also came in in a great time of 41:45 minutes.