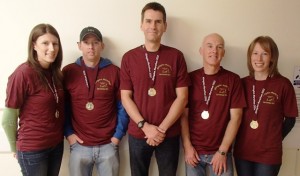 The 30th Abingdon Marathon took place on Sunday and a team of 5 Romsey Road Runners entered the event. The autumnal morning gave chilly and foggy conditions but this did not deter the 732 runners from lining up and completing the flat course, which included a two lap section around the villages of Drayton, Milton, and Sutton Courtenay, before becoming back through the town and into Tilsley Park for a finish in front of the grandstand. The well-organised event received excellent support from local residents.
Jimmy Hunt was the first of the Romsey contingent home in 3:06:42. This is particularly impressive as it was Jimmy's fist ever marathon. He was followed by Paul Burnage 3:33:05 and Stuart Liesnham 3:53:40. Training partners Heidi Godfrey and Hannah White both also finished under the 4 hour mark. Heidi managed to knock 30 minutes off her previous marathon time to finish in 3:54:48 and Hannah White came in 3:59:10.
Local running club, Totton Runners organised the Minstead Stinger on Sunday. The event is a tough off-road 9 miler taking in some lovely tracks and trails of the New Forest and a good few hills. Toby Burrows was first to finish in 1.02.04 and was 6th overall. Neil and Penny Jennings finished in 1.12.44 and 1.21.14 respectively. Anna Duignan and Charlotte Maslen ran well, with both finishing 5th in their respective age categories. Anna Duignan in 1.34.34 and Charlotte 1.35.28.