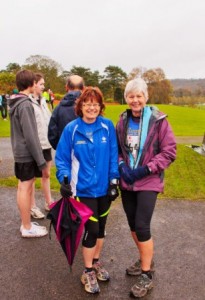 Tidworth 10K in which Romsey Runners Gill Callus and Wendy Couper took part, was a muddy slippery affair. The run took place over a challenging course on varied terrain through the Army camp at Tidworth, including Salisbury Plain and Sidbury Hill. The event was a sponsored run to raise funds for the Salisbury District Hospital Stars Appeal. It did, however, stop raining by the time the runners started. Gill Callus finished in 77 minutes with Wendy just behind her in 79 minutes.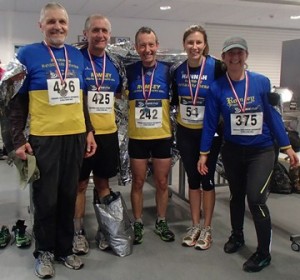 Lordshill 10 mile road race, part of the Hampshire Road Race League, also took place with five Romsey Road Runners taking part. The very heavy overnight rain resulted in significant flooding, with part of the route along Lee Lane under water for about a quarter of a mile, making it more like a cross country event. The organisation and marshalling by the Lords Hill Road Runners was excellent, with the new race HQ provided at the recently opened Oasis Academy. The tough conditions suited the Romsey Runners with three achieving PBs, Hannah White in 1:15:58, Frank Oyrique in 1:22:53 and Alice Lane just missed breaking 1 hour 30 minutes by 4 seconds. Also running well was Paul Bradley in 1:16:33 and George Wysocki in 1:32:15.
Jimmy Hunt and Steve Reed were also out competing in the duathlon event, the Rempstone Roast. This is the first race of the 2012/13 Duathlon Series, all of the races taking place on the privately owned Rempstone Estate in Corfe Castle, Wareham. The event took participants on a variety of bridle ways and forest tracks; first was a 2 mile run, followed by a 10 mile mountain bike ride and a further 2 mile run to finish. Of the 69 finishers, Jimmy Hunt came 2nd overall in a total time of 1 hour and 8 seconds, with Steve finishing in 1:07:42.