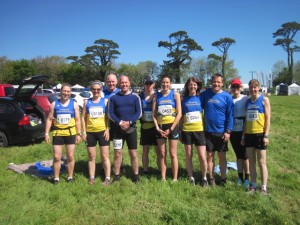 20 Romsey Road Runners and partners headed to Plymouth over late May Bank Holiday for the club's annual weekend away, which coincided with the final event in Endurance Life's Coastal Trail Series.
Members competed in the 10k and half marathon races, which were held at the private Flete Estate in South Devon near Ivybridge. On a glorious day with a cool breeze, the half-marathon course followed the spectacular Erme Estuary and took the field through woodland awash with wild garlic and flowers, along the clifftops and fields before finishing by wading through the estuary (fortunately at low tide) before a 1.5 mile climb to the finish.
Mark Adams, suffering from an injury, was the club's first runner home in the 10k event. Nineteenth overall in a time of 01:11:46, he was third in the MV40 category and 14th male to finish. He was followed by Alice Lane in 48th (01:19:33), Julia Abab in 52nd (01:20:27; first FV55), Anna Duigan in 114th (01:33:14; first FV60), Gill Callus in 138th and Wendy Couper in 139th.
Jimmy Hunt was the first Romsey Road Runner to cross the line in the half marathon. In second place as he crossed the estuary, a wrong turn in the closing stages cost him his place, and he finished in 36th position in 02:21:49. Hannah White and Becky Tovey were next, coming in in 73rd and 74th respectively (02:33:03 and 02:33:05), Di Cross in 98th (02:39:42; 2nd FV50), Jane Carter in 100th (02:40:42), Steve Davies in 126th (02:47:13), Paul Cutbill in 134th, Ruth Page in 165th and David Page in 178th.
A few brave souls dived into the freezing seas at picturesque Mothecombe Beach to celebrate, before returning to the hotel to recover over dinner.
Stuart Leisnham and Tam Ryan both finished the undulating off road South Downs Marathon on 8 June. Starting at Slindon College in a wave system and finishing in Queen Elizabeth Country Park. There was both a relay marathon, full marathon or half.
Tam Ryan completed the 26.2 miles in 3 hrs 51mins and was 1st lady in her age category, winning a nice running watch for her efforts. Despite this, Tam was disappointed with her run and felt events leading up to run could have been better, injury struck during the run and she was glad to finish. Stuart Liesnham also finished.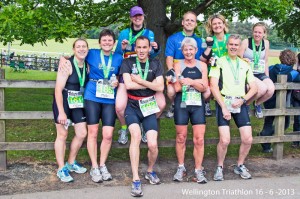 Nine RRR's also recently took part in a very well organised Triathlon in the grounds of Wellington College, Berkshire. It is an excellent low key event consisting of a 200m swim, 10 mile cycle and a 5km run around the quiet lanes around the college. According to the finishers 'conditions were good – not too hot and it didn't rain'. Finishers were:-: Becky Tovey, 3rd lady 1hr 04, Christopher Stocks 1hr 06, Greg Roulston 1hr 09, Derek Kelly 1st M60+ 1hr 13, Alice Lane 1hr 17, Joanna Weguelin 1hr 17, Julia Abab 1hr 18, Alison Solomon 1hr 20 and Wendy Couper 2nd W60+ 1hr 32.