Wednesday 3 July saw a bumper number of teams turn out from local running clubs to take part in the annual Mile of Miles relay event. Hosted by the 2012 winners Romsey Road Runners, the relay event took place on Southampton's athletics track, the perfect setting for runners to complete a metric mile (4x400m) before handing on to the next runner in the team.
26 teams took part in the event, including three from new club Hedge End Running Club, and three from New Forest Runners Juniors section who gave all the senior teams something to worry about, finishing 8th, 14th and 15th overall.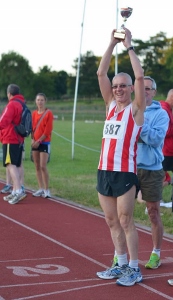 Southampton Athletic Club's A team won the event comfortably in a total time of 49:15, almost 4 minutes ahead of their B team who placed 2nd, and will host the event in 2014.
1. Southampton A 49:15
2. Southampton B 53:04
3. Eastleigh A 53:38
4. Lordshill A 53:39
5. New Forest Snr 54:12
6. Hardley A 55:08
7. Romsey A 55:17
8. New Forest Running Club Juniors A 57:09
9. Totton A 59:10
10. Southampton C 59:26
11. Eastleigh B 1:00:47
12. Hedge End A 1:01:04
13. Lymington 1:03:21
14. New Forest Juniors C 1:05:13
15. New Forest Juniors B 1:05:38
16. Romsey B 1:06:53
17. Lordshill C 1:07:29
18. Totton B 1:08:33
19. Hardley B 1:08:56
20. Lordshill D 1:09:16
21. Hedge End B 1:10:08
22. Lordshill B 1:10:45
23. Totton C 1:12:27
24. Eastleigh C 1:16:26
25. Hedge End C 1:17:22
26. Eastleigh D 1:20:30