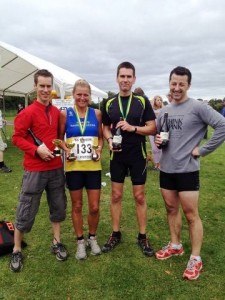 On Sunday 16th September local event The Bounder proved to a winning race for Romsey runners. Tam Ryan was first lady to finish in 1:13:26 and Matt Hammerton first man. Matt was the overall winner of the event, completing the 9 mile route and setting a new course record in just 53:54.
The Bounder is organised by the Broughton Bounders Running Club and involves 1,000ft of ascent, starting in Broughton village with a steep climb followed by rolling chalk down lands of the Test Valley, with a few more challenging hills thrown in for good measure. Also finishing were Duncan Dickinson in 1:05:48 and Alice Lane in 1:37:05.
Sunday also saw racing in Portsmouth, organised by the City of Portsmouth Athletic Club. Bruce Maddick completed his first race in 3 years, finishing the Victory 10k in 47:58. Andrew Proctor romped home in 29:26 in the Victory 5 mile.