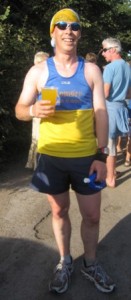 It was a busy weekend for Romsey Road Runners, with runners competing in the Test Way Relay, the London Duathlon, the VLT Triathlon and the Stockbridge 10k. Saturday 8th September saw the annual Test Way Relay take place with a number of local running clubs making their way along the Test Way, starting at Inkpen Beacon and finishing in Totton. Runners complete the route as a relay consisting of 8 runners, each running a leg between 4.5 and 6 miles in distance. Teams can comprise of male or female runners or a mix of both. RRR had both a men's and a ladies team, with the ladies finishing 3rd in a time of 6:14:13 and the men finishing some half an hour behind them, in 6:49:58 in 9th place.
On Sunday it was the turn of multi-sport events with Hannah White and Sarah Thorn taking part in the London Duathlon Challenge – a run, cycle, run totalling 35km around Richmond Park. Both ladies finished 6th in their age categories, with Sarah just pipping Hannah at the end to finish in 2:11:49 and Hannah in 2:13:57.
At a local level the Valley Leisure Triathlon was also held on Sunday 9th September. This required competitors to swim, cycle and run, covering 600 metres of the pool in Andover, followed by a 30km cycle from Andover to Romsey and the final leg, a 7.5 km run from Romsey to Chandlers Ford, finishing at the Valley Park Leisure Centre. RRR's Derek Kelly finished in 2: 6:40 and Charlotte Maslen in 2:43:40.
Another local event took place on Sunday, the Stockbridge 10km, where Alice Lane finished as 26th lady in a time of 57:38.