The New Year welcomed another opportunity for many local runners to take part in the annual Stockbridge 'George Skeates' 8 mile cross country event. Many walkers, runners and cyclists took part with the money raised going to the George Skeates Benevolent Fund.
Runners, including a small Romsey contingent, started from the Town Hall on the High Street heading out of the town to find the mud and puddles offered by the off road hilly route.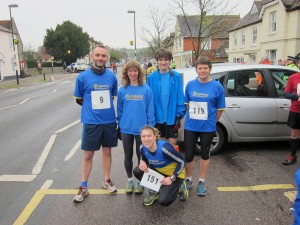 Despite the overcast morning and recent heavy rains, conditions were surprising good under foot apart from 'Gun Boat Gully', was very muddy and slippery – just as well it's near the finish!
Neil Jennings was the first Romsey man home in 55:55, knocking 4 minutes off last years time and finished as 5th man overall. Neil Payne finished in 1:09:26.
Becky Tovey was the 2nd lady to finish in 1:07:42, Penny Jennings 1:10:27 and Julia Abab came just behind in 1:12:07.