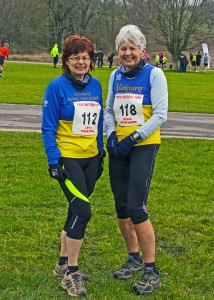 Gill Callus and Wendy Couper recently took part in the Great Western 10K in Sherborne, Dorset. Gill and Wendy described it as "one of the most scenic runs we have ever done but it was a bitterly cold morning with lots and lots of mud and one or two hills – the perfect way to spend Mothering Sunday!" Gill finished second in her category in a time of 84 minutes 48, whilst Wendy was first in her category with a time of 85 minutes 12.
On the same day, a group of RRRs completed the 'Mad March' – a single 10 mile lap or double lap 20 mile event organised by Zoom Tri Club on the outskirts of Christchurch. The event takes place on the rural country lanes around the Burton area and is popular with those training for a spring marathon. According to those taking part it was "very cold and extremely windy, and the lanes were rather wet & muddy in places". The conditions, however, didn't deter the runners; in fact a number managed personal bests for the distance.
Mark Adams and Hannah White completed the 10 mile event, with Mark finishing as 24th male in 1:15:46 and Hannah was 4th lady in a time of 1:16:36. Five of our spring marathon runners completed the 20 mile race with excellent results: Jimmy Hunt 2:11:43 (PB) and 19th male, Tam Ryan 2:28:29 (PB) 10th lady, Lynda Brown 2:38:47 (PB), Sarah Thon 2:48:20 (PB) and Di Cross 2:49:23.
A week later, three RRRs braved the rain and hail along the Solent coast to participate in the Exbury 10k. All Romsey Runners were pleased with their times, Neil Jennings even achieved a PB for the 10k distance despite making a wrong turn and taking a tumble in the conditions – he obviously can go quicker! Neil finished in 41:41, followed by Candice Snelling 44:11 and Penny Jennings 48:26.