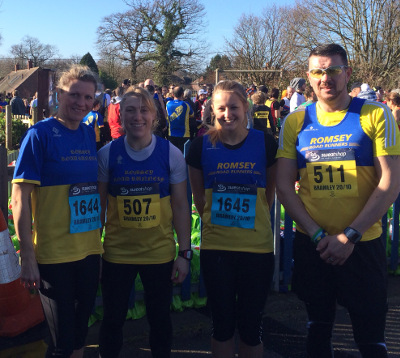 For those training for a spring marathon, the Bramley 20 mile is a key event in the calendar. Three Romsey ladies made the journey North of Basingstoke for the two lap event. Runners follow a gently undulating route through the lanes of north Hampshire, facing a couple of longer inclines, which always seem worse second time around.
For Rio Brookes-Gibbs it was her first 20 miler. Rio wasn't even sure that she could run the 20 miles and was pleasantly surprised to finish in a time of 2:56:23, giving her a real confidence boost for the London Marathon in April. Shantha Dickinson was pleased too, sticking to her marathon training plan and finishing in 2:33:24. Finally, seasoned runner Tam Ryan finished in a personal best of 2:27:19. Three happy ladies.
In the shorter Bramley ten mile, Wayne Windebank and Becky Tovey had cracking runs both managing massive personal bests.
Windebank finished in 1:08:49 and Tovey in a time of 1:16:34. The unexpected dry and sunny conditions with a slight wind were just perfect for running and rewarded those turning out on Sunday with pleasing results.