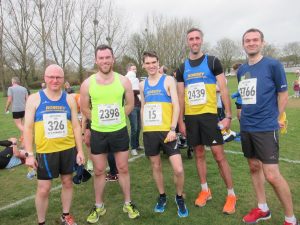 Eastleigh 10K, one of the largest 10K's in the south, attracted over 2,800 runners again this year. This fast, flat event which took place on Sunday 19th March saw ten Romsey Road Runners taking part and it lived up to its reputation as being the 'home of the PB' with at least two of the runners finishing with personal bests amongst a collection of other fantastic times. The line up of results were: Neil Jennings 35:42 (PB), James Battle 37:02, Matthew Brown 37:30, James Cole 38:50, Alexander Prinsep 42:21, David Gardner 43:13 (PB), John Quayle 43:43, Paul Whitaker 44:42, Joanna Blatherwick 53:12 and Elizabeth Prinsep 53:37.
On the same weekend, Romsey's Becca Lurcock ran the Ringwood 15k in a fantastic time of 1:11:13 providing another victory for Romsey as she finished first lady!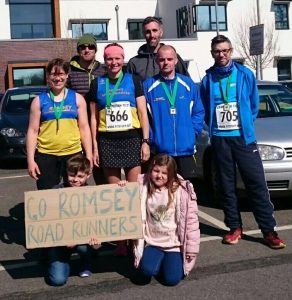 Last weekend, despite losing an hour's sleep, Romsey Road Runners made an early start, traveling to Cranleigh in Surrey to run a slightly undulating but scenic 21 mile race. The course that is mainly on quiet country lanes consists of a 9 mile loop followed by a 6 mile loop run twice. The weather made up for the early start and the enjoyable sunny conditions provided an ideal race for the runner's last push in their training for a spring marathons.  For Romsey first home was James Cole 2:47 (93rd), followed by Mark Suddaby 2:48 (102nd), Tam Ryan 2:51 (116th), Dave Gardner 2:53 (124th) and Becky Tovey 2:58 (139th) out of 349 finishers.