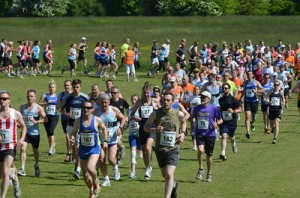 Romsey Road Runners were delighted to hold the 5 Mile Beer Race yesterday in glorious sunshine and with a record 315 entrants! The club's members turned out in force to support the event, ensuring the safety and enjoyment of the runners around the roads of Braishfield, and making sure that the beer was flowing and the cake was in ample supply.
Check out the results 5 Mile Beer Race Results 2 June 2013 and photos taken by Paul Hammond of Easteligh Running Club.
Three runners made an early break away from the field, with James Baker of Chichester Runners finishing first in 25:59, swiftly followed by Andy Morgan-Lee of Thames Hare and Hounds in 26:28 and Stuart Holloway of Salisbury Athletics Club in 26:53. Hannah Bliss of Overton Runners was first lady home in 32:42, followed by Anna Smith-James of Hedge End Runners in 34:21 and  Anna Giles of Eastleigh Running Club in 34:58.
Whilst the race attracts lots of runners from local (and distant) running clubs, over half of yesterday's finishers were not attached to a running club, proving the race to be a great event that attracts all runners.
Our thanks to our sponsors Fullers, Up and Running and Hildon Water, and to The Old House at Home, Braishfield Parish Council and the residents of Braishfield for their support of this race.