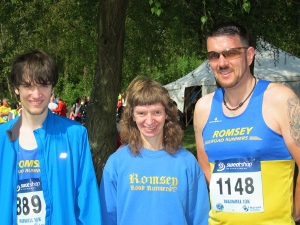 A trip to the zoo was the destination for three Romsey Runners taking part in this years annual Marwell Wildlife 10k. The event, marshalled by Hedge End Running Club for the first time, helps to raise funds for wildlife conservation and the care of the animals in the park.
The event starts and finishes within the park, offering runners and their spectators views of the large animal enclosures. The race entry fee includes free entry to the Wildlife Park for the runners after their run.
A little over 900 runners took part in this undulating course, taking runners up a steady incline towards the villages of Owslebury and Upham, along quiet country lanes before heading back. Romsey's runners were: Wayne Windybank 42:57, Neil Jennings 43:57 and Penny Jennings 47:23 (1st FV45).