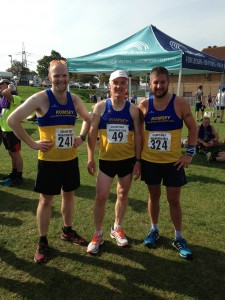 Sunday, 28th September marked the annual Solent Half Marathon, organised by Hardley Runners. Billed as a friendly local race, runners are treated to a circular quiet on-road route, which takes in Exbury and the Solent shoreline at Lepe, before turning inland towards Fawley. Finishing for Romsey was the following trio:
Paul Burnage 1:40:27
Jade Rolfe 1:44:46
Daniel Lurcock 1:47:50
The Clarendon Marathon, Half Marathon and Team Marathon took place on Sunday, 5th October with runners starting in Salisbury (for the full marathon) or Broughton (for the half marathon) and finishing in Winchester. The route followed the Clarendon long distance footpath between the two cities, challenging runners to a tough, undulating course, with plenty of breath taking distant views on their way down. The weather was perfect, dry and bright, with cooler temperatures than of late.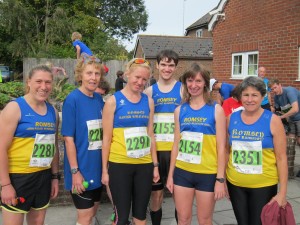 Finishing the half were:
Neil Jennings 1:37:35
Jo Weguelin 1:56.27
Penny Jennings  1:58:21
Becky Tovey 2:06:16
Brenda Topliss 2:06:19
and full marathon:
Ian Ralph 3:17:28  (13th place overall)
Wendy George 4:31:54
Di Cross 4:56:30
RRR, Tam Ryan also completed a half marathon on Sunday, 5th October: the Basingstoke Half Marathon. This race incorporated a number of challenging hills in Cliddesden and Farleigh Wallop and boasted some beautiful countryside and quaint villages south of Basingstoke. Tam described it as 'a very hilly half but lovely and scenic with an enjoyable last 3-4 miles which was mainly flat or down hill all the way to the finish. It was well organised and very friendly, with plenty of support from the locals in the villages'. Tam finished in a time of 1:34:41, placing her 17th lady.