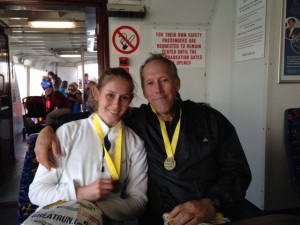 Romsey Runner, Richard Vie with his daughter Charlotte finished a sunny, dry Great South Run in Southsea on Sunday. 'It was a great day out with perfect weather and we both did better than our respective target times which was nice!' said Richard after the event.  Richard finished in 1:37:31 and, just a little behind Charlotte who managed 1:12:36.
Great South Run Results
Jackie Bailey 1:32:47
Richard Vie in 1:37:31
Lindsay Dunford 1:40:33
The week before had seen a number of RRRs heading to Oxfordshire to complete the Abingdon Marathon. The event has a tradition for fast times, as the course is one of the flatter courses. The weather assisted runners and the many finishers were rewarded with good times. Becky Tovey managed a 'good for age' time, guaranteeing a place in the London Marathon 2016.
Abingdon Marathon Results
Toby Burrows 3:09:25
Becky Tovey 3:43:16 – AG spot for London accomplished
Tam Ryan 3:43:19
Alice Lane 4:20:01
Elsewhere, Angela Burnikell completed the Thruxton Duathlon and was first lady home in 1:06:02, coming 10th overall. This event used the race circuit in Thruxton, north Hampshire for both the run and cycle, making it traffic free and ideal for those wanting to try a duathlon for the first time.